Vancouver, Canada – TheNewswire – June 7, 2023 – Nexus Gold Corp. ("Nexus Gold" or the "Company") (TSXV:NXS), (OTC:NXXGF), (FSE:N6E) is pleased to announce it has signed an option agreement to acquire a 90% interest in the 6,200-ha (62km²) Fofora Gold Project exploration permit located 450km to the southwest of Ouagadougou, Burkina Faso, West Africa.  The Company can earn up to a 90% interest in the property by making a combination of cash USD $300,000 and 500,000 share payments over 54 months.
The Fofora permit is located on the eastern side of the Hounde greenstone belt in the Kampti department; in the province of Poni, near the border with Cote D'Ivoire. The Hounde Greenstone Belt is host to several large-scale operating gold mines, including Endeavour's Mana and Hounde Mines, Futurna Silver's Yaramoko Mine as well as multiple other producing mines and large-scale discoveries.
The property has been explored in the past by Volta Resources and later by Roxgold and Fortuna Silver.  Previous work on the property has identified a 2-kilometer gold in soil geochemical trend straddling the geological contact between andesitic and basaltic rocks.  This contact zone correlates well with the regional magnetic data.  Silt samples collected from adjacent drainages have returned reported values of 327 & 127 ppb gold.  A second target area is situated 7000 meters south of the first trend.  This is an area of active artisanal mining.  A rock sample collected here by the company in February returned a value 9820 ppb (9.8 g/t) gold.  See Figure 2 below.
"With the addition of Fofora we now have three top tier gold exploration projects in our West African portfolio," said CEO, Milad Zareian.  "We are eager to get back to work in Burkina and look forward to drilling as soon as possible.  We are hopeful that once the rainy season is behind us later this summer that we'll be able to announce a meaningful work program," continued Mr. Zareian.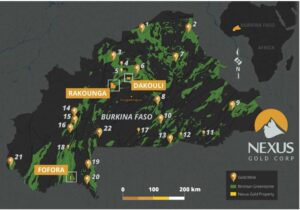 Fig 1: Nexus Gold projects, significant deposits/mines, Burkina Faso, West Africa
The property is immediately adjacent and contiguous to Fortuna Silver's Boussoura Project.  Historical drill results* reported by Roxgold (now Fortuna Silver) returned the following results:
35 metres ("m") at 4.1 grams per tonne ("g/t Au") in drill hole BSR-21-RC-FFR-218 from 86m including:

9m at 12.1 g/t Au from 96m
6m at 11.3 g/t Au in drill hole BSR-21-RC-FFR-167 from 90m including:

1m at 65.6 g/t Au from 94m

2m at 11.7 g/t Au in drill hole BSR-21-RC-FFR-187 from 37m including:

1m at 20.9 g/t Au from 38m
3m at 33.6 g/t Au in drill hole BSR-21-RC-FFR-201 from 6m
The company intends to conduct a first pass exploration program over the summer to follow up on the areas mentioned above and to test additional areas.
Fig 2: Soils, silts & sample locations, Fofora Gold Project, Burkina Faso, West Africa
* Management cautions that past results or discoveries on adjacent properties may not necessarily be indicative of the presence of mineralization on the Company's properties.
Warren Robb P.Geo., Vice President, Exploration, is the designated Qualified Person and has reviewed and approved the technical information contained in this release.   It is the QP's opinion that the data as presented is adequate and can be relied upon for use in this press release.
About the Company
Nexus Gold is a Canadian-based gold exploration and development company with an extensive portfolio of projects in West Africa.  The Company will continue development of assets in West Africa in addition to potentially broadening its scope to include other jurisdictions.
For more information, please visit nxs.gold
On behalf of the Board of Directors of
NEXUS GOLD CORP.
Milad Zareian
CEO